Songwriting and Production with GarageBand
---
NSM's Songwriting and Production class utilizes GarageBand, Apple's free but surprisingly resourceful program that allows recording, editing and mixing audio. GarageBand can be used to create audio and music, including original songs, albums, and covers; commercials and radio; content creation for your social channels, music for tv and film; and composing for video games and other media. Since students learn in our fully outfitted music technology lab, they are not required to own a MAC computer or iPad. However, having an Apple devise allows the student to work on their project at home as well as in our lab.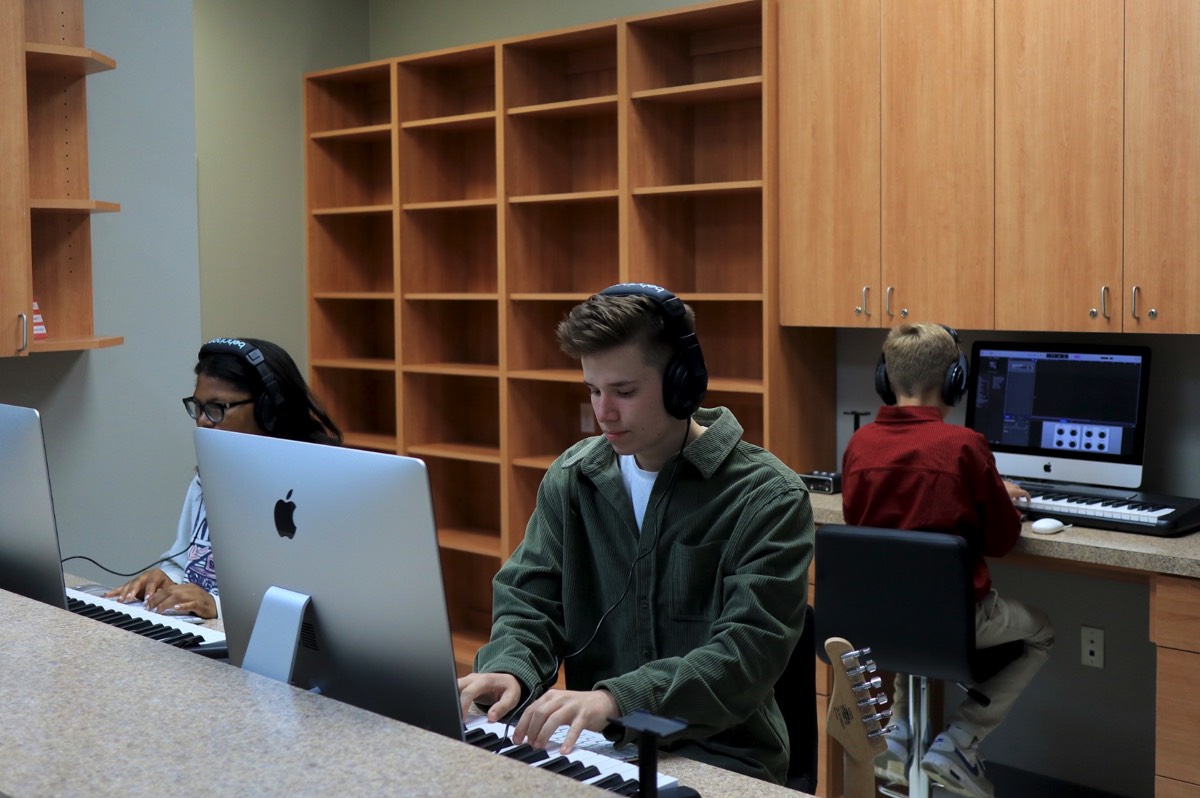 Record Your Own Song and Write Your Own Beats!
---
In this 8-week course you will write and recorded you very own song! We will teach you about MAC's free Digital Audio Workstation (DAW), GarageBand, and show you the tools and techniques you need to start recording and mixing. This course is designed to help students develop a full and in depth understanding of GarageBand and its uses, and to navigate it with ease. If your passion for music has you interested in the process of recording, editing and mixing music, this is the course for you!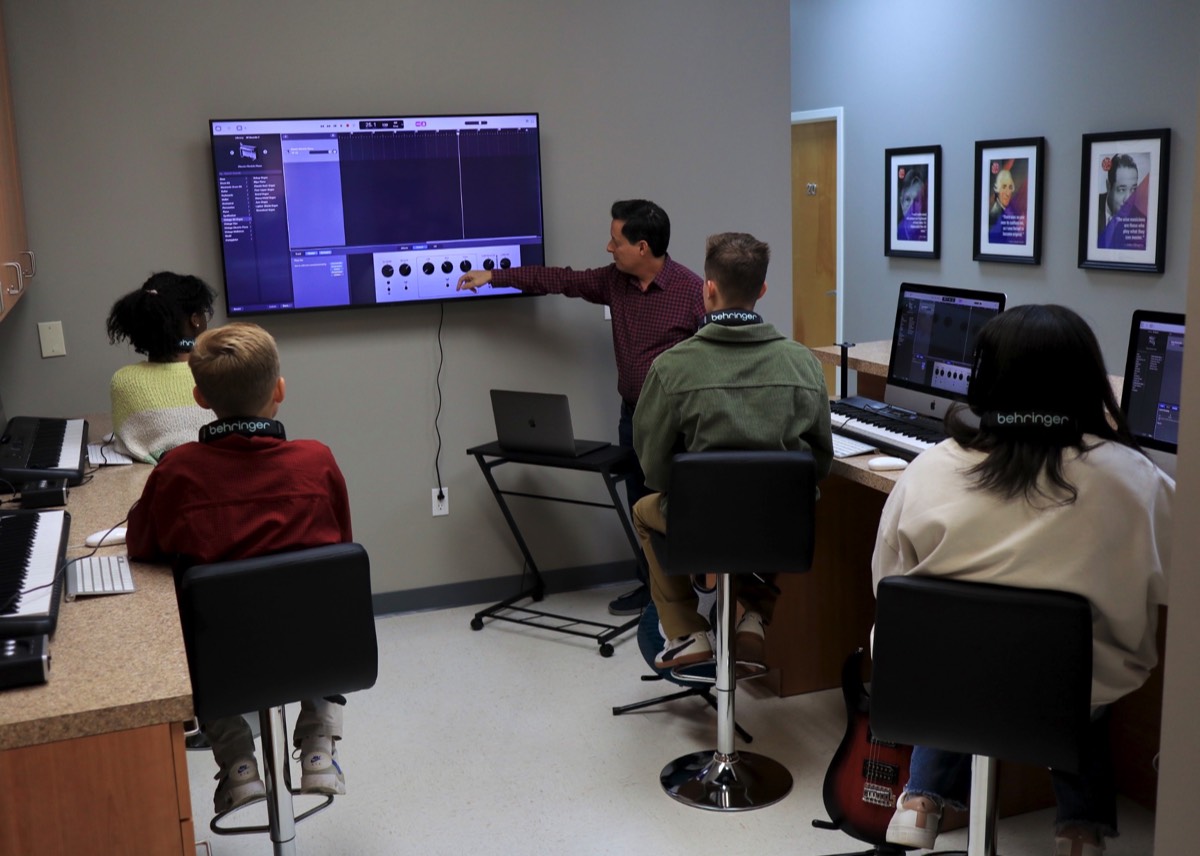 Learn in Our State-of-the-Art Music Technology Lab!
---
Each workstation in NSM's Modern Music Technology Lab includes an iMac computer, a 61-key MIDI keyboard controller with full size velocity sensitive keys, a Behringer Audio Interface to plug in a guitar and vocal/instrument mics and Behringer Headphones. Students also have access to PreSonus speaker monitors and large diaphragm condenser microphones. NSM's workstations include modern software like GarageBand, Logic Audio X, PreSonus Studio One 6, Sibelius and MuseScore notation software, and an extensive library of sounds and loops. Please scroll down to view photos of our lab in action!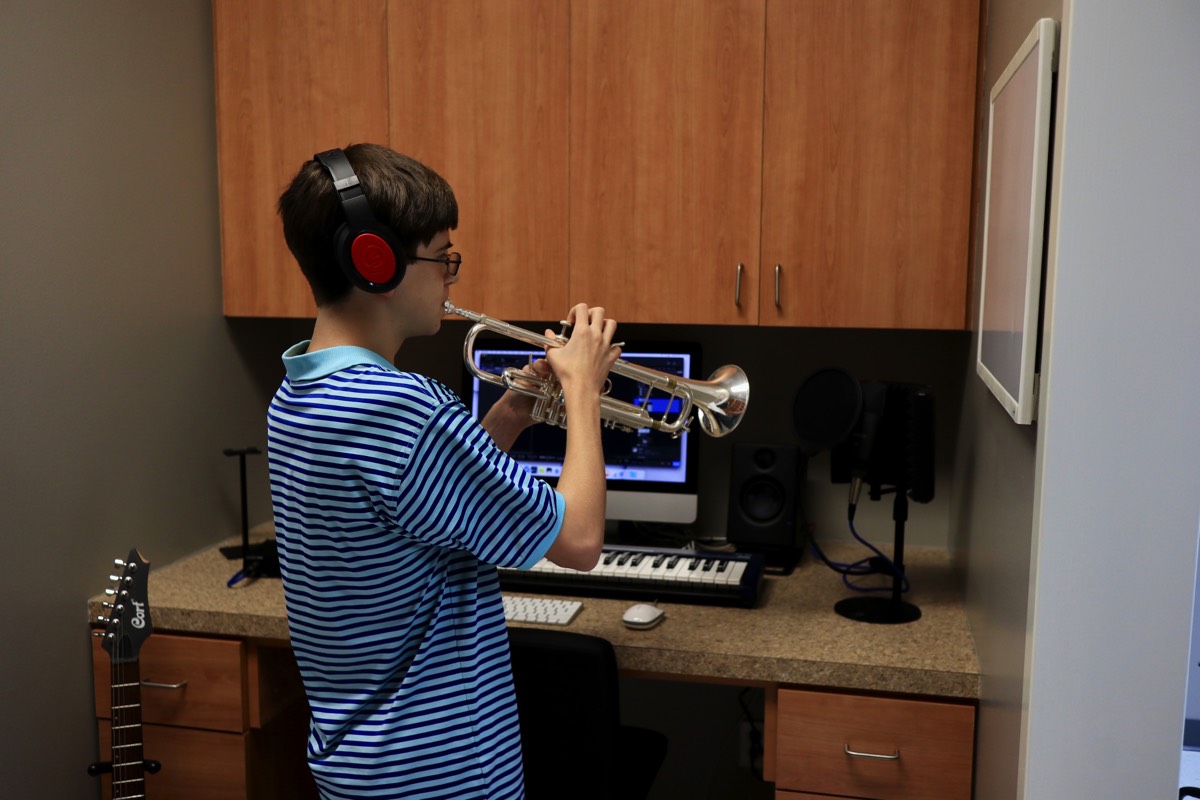 Class Schedule and Registration
Class Details and Tuition
Songwriting and Production with GarageBand

Number of Students Per Class
: 3-5
Course Length:
8 weeks, one 50-minute class per week
Class Offerings:
1.
Songwriting and Production with GarageBand for Youth - 101 (Ages 9-13)
2.
Songwriting and Production with GarageBand for Teens & Adults – 101 (Ages 13-Adult)
3.
Songwriting and Production with GarageBand for Homeschoolers – 101 (Ages TBD based on interest)
Prerequisites:
Although no experience is required, we recommend that each student have completed at least one year of study on an instrument, or have a basic understanding of notes and rhythms.
Additional Lab Use (optional):
Students are allotted one additional hour per week of individual lab usage to work on their project. This allotment is based on workstation availability and must be scheduled at the front desk. Instructors are not available during this time.
Equipment Requirements:
1.
A portable hard drive or flash drive to store student projects
2.
A binder or notebook to take class notes
Note:
Students will use NSM's technology lab's equipment for all classes. Therefore it is NOT required that the student own a MAC computer or iPad. However owning a MAC device will allow the student to work on their project at home and gain further experience navigating GarageBand
Tuition:
$384 ($48 per class)
Early Registration Discount (by December 31):
$320 ($40 per class)
Registration Requirements:
Due to the small class size and high demand:

1.
A $50 non-refundable deposit is required at registration. (no deposit needed for pre-registration)
2.
All tuition must be paid prior to the first class and no refunds are granted for missed classes.

WINTER CYCLE - Class Schedule and Registration
Songwriting and Production with GarageBand
Mondays - Teens & Adults

Time: 4:30pm-5:20pm
Ages: 13-Adult
Instructor: Andy Zabinski
Tuesdays - Youth

Time: 5:30pm-6:20pm
Ages: 9-13
Instructor: John Pagano


Tuesdays - Teens & Adults

Time: 6:30pm-7:20pm
Ages: 13-Adult
Instructor: John Pagano


Wednesdays - Teens & Adults

Time: 5:30pm-6:20pm
Ages: 13-Adult
Instructor: John Pagano

Thursdays - Homeschoolers

Time: 2:00pm-2:50pm
Ages TBD based on interest
Instructor: Alex Thomlinson
Thursdays - Teens & Adults

Time: 4:30pm-5:20pm
Ages:13-Adult
Instructor: Troy Lucia


Saturdays - Teens & Adults

Time: 2:10pm-3:00pm
Ages: 13-Adult
Instructor: Alex Thomlinson

SPRING CYCLE - Class Schedule and Registration
SUMMER CAMPS - Coming Soon
Explore NSM's Music Technology Lab
NSM Music Lab Students in Action…
What Our Students Are Saying
The people here have truly touched my heart in just one session. It all started with a phone call to Emily, her approach and sweetness led me in. From the moment I stepped in the door the enviroment was awesome. My son is taking drum lessons. Joey's passion for what he does presents a wonderul environment. Thank y'all so much! Nikki Lake (facebook)
Mr. Birchby, the violin teacher, is truly a treasure!! He's a violinist, philosopher & guide... Balaji J. (yelp)
NSM has the most talented and dedicated group of music teachers. I have trusted my son's musical education to NSM for over 4 years and we couldn't be happier. The staff is very friendly and knowledgeable. They also helped us with quality instrument rentals for my son's school band. I totally recommend them! Mili Zapata (facebook)
My 7yr old Cash loves taking drum and piano lessons from John Toni Peasley-Covert (facebook)
I have seen so much improvement in my child's piano playing. He is really enjoying himself now and looks forward to his lessons every week. Diane Harville (website)
New School of Music is a great place to get a professional music teacher. They set me up with one who met all my expectations. I want to thank my teacher for helping my singing voice to sound better than ever! Suzanne Janelle (google)
I think that New School of Music is a great place to take lessons because the staff is always friendly and encouraging. They inspire you to do better, and try harder, both in life and in your lessons.James Rice (google)
I really love the teachers at New School of Music. Each one is unique and can provide something different to each student. I've learned so much in such a short period of time. They really have the best of the best teaching there. R. Booth (google)
My daughter takes lessons at the Lilburn location. She plays the double bass. Drew is so excited and interested in my daughters development. He loves the Bass and plays different styles of music so my daughter is learning more than just technique. To me, it seems like music appreciation. The folks at New School are a pleasure and the rates are very affordable. JaNohn Bowen (google)
Great teachers! Friendly environment, and good for most ages (5+) Petal Anne (google)